Ernest Hemingway On Wine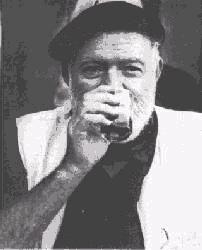 On Seeing A Bottle of Clos d'Argent On The Shelf

I looked at her and she disturbed me and made me very excited. I wished I could put her in the story, or anywhere, but she had placed herself so she could watch the street and the entry and I knew she was waiting for someone. So I went on writing.

To Those Who Complain About Prices (too much)

That afternoon she told us, too, how to buy pictures.
"You can either buy clothes or buy pictures," she said. "It's that simple. No one who is not very rich can do both. Pay no attention to your clothes and no attention at all to the mode, and buy your clothes for comfort and durability, and you will have the clothes money to buy pictures."
"But even if I never bought any more clothing ever," I said, "I wouldn't have enough money to buy the Picassos that I want."
"No, He's out of your range. You have to buy the people of your own age—of your own military service group. You'll know them. You'll meet them around the quarter. There are always good new serious painters."

The Wine Merchant

She had no confidence in books written in English, paid almost nothing for them, and sold them for a small and quick profit.
"Are they any good?" she asked me after we had become friends.
"Sometimes one is."
"How can anyone tell?"
"I can tell when I read them."
"But still it is a form of gambling. And how many people can read English?"
"Save them for me and let me look them over."
"No. I can't save them. You don't pass regularly. You stay away too long at a time. I have to sell them as soon as I can. No one can tell if they are worthless. If they turn out to be worthless, I would never sell them."
"How do you tell a valuable French book?"
"First there are the pictures. Then it is a question of the quality of the pictures. Then it is the binding. If a book is good, the owner will have it bound properly. All books in English are bound, but bound badly. There is no way of judging them."

The Best Wine Should Not Be Served At Parties

When spring came, even the false spring, there were no problems except where to be happiest. The only thing that could spoil a day was people and if you could keep from making engagements, each day had no limits. People were always the limiters of happiness except for the very few that were as good as spring itself.

The Wine Maker Knows How To Make Wine

I would walk along the quais when I had finished work or when I was trying to think something out. It was easier to think if I was walking and doing something or seeing people doing something that they understood.

Hemingway Lived Life So You Don't Have To

I knew several of the men who fished the fruitful parts of the Seine between the Ile St.-Louis and the Place du Verte Galente and sometimes, if the day was bright, I would buy a liter of wine and a piece of bread and some sausage and sit in the sun and read one of the books I had bought and watch the fishing.
---
And wine comes in 750ml bottles, so even if you do try to LIVE LIFE, Hemingway will still have you by 33%, unless of course you buy 2 bottles, in which case you'd likely pass out and fall into the Seine, and Hemingway would win again by at least half a link of sausage (yours was snatched up by pigeons when you fell into the river), and the sun gently touched down on the cold windswept street causing quite a commotion among the shopkeepers both living and dead, and then she turned away, and the sentence was over.


Food Wine Art Lit Home