Real Latin Music



Buena Vista Social Club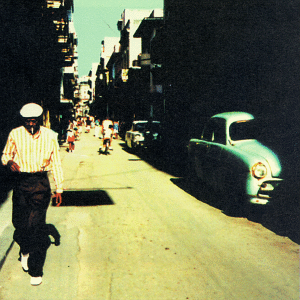 Here is some serious Cuban music. This is the disc that started it all. I'm sorry, but this music is sooooo damn good [that] it's ridiculous. Let others argue about whether Ry Cooder is really an alien transvestyte in drag.

Sabroso! (Rhino)


This is the Afro-Latin CD that everyone has now. It's so trendy you can't even imagine being at a party without it. But don't overcompensate by not getting it. You might as well be chopping off your own nose. And if someone where to not get this album because they're not Latino, well then that would be chopping of your nose to spite your race. However, you can, if you prefer, get some of the many other fantastic Real Latin discs that seem to be flying off the presses these days, like hot tortillas on a winter's day. The recent explosion of Latin music reminds you of what happened with the other Latin export, the smokable cigar. They've both been around forever, but for some reason, it took us a while to realize it. They just needed a magazine, that's all. But latin music doesn't have to be smoked outside, won't stink up the upholstery and doesn't cost $4 every time you want to hear a good song. And thus it will appeal to a wider audience.

Notable Tracks:

3 Tito Rodriguez and his Orchestra - descarga cachao
4 Joe Cuba sextette - so what? - sweat vocals - tour de force of percussion, powerful
9 Machito and His Orchestra - relax and mambo
13 Joe Cuba Sextette - salse y bembe - vocals
15 Har-You Percussion Group - Welcome to the Party - gripping piano and percussion
18 Kako and his Orchestra - Shingaling Shingaling - rhythm, vocals, trumpet - this song has it all -



Educational Amazon Review (shortened)
"...this 18-track compilation is a serious must-own for anyone even vaguely interested in the percolating Afro-Latin sounds of the '50s, '60s, and '70s. Latin jazz giants like Machito, Tito Puente, and Willie Bobo are represented by some of their finest cuts ("Relax and Mambo," "Hong Kong Mambo," and "Fried Neckbones and Some Home Fries," respectively). Lesser-known talents like Pucho and His Latin Soul Brothers ("Heat!"), Kako & His Orchestra ("Shingaling Shingaling"), and Ocho ("Undress My Mind") damn near steal the show with their funk-inflected brilliance." Dan Epstein

Convincing Amazon Review (includes my favorite line from an Amazon review)
A music fan from Boston, MA , August 16, 1999
Great musicians, very danceable, makes you feel great!
As soon as I heard this CD in the sample section of a record store I was hooked. The latin beat is perfectly catchy without being frenetic and cheesy sounding like a lot of modern salsa. The music is probably the happiest thing I've ever heard. Havana must be (or must have been)quite a place if you could go out an hear this kind of stuff. This CD makes me want to join a Cuban Son band!
Estrellas de Areito: Los Heroes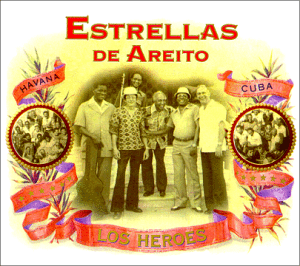 This 2 CD set is fantastic. It's every bit as good as Sabroso, but rather than being a compilation of different songs, it's two 70 minute plus discs packed with tracks from one big jam session recorded back in the seventies. And whereas Buena Vista Social Club combines individual talents to form a unified sound, Los Heroes starts from a unified sound and spins off glimpses of individual talent as it goes. That may be total BS, but the deal is that this CD, in my humblest opinion, rocks even more than BVSC. These are 7 to 10 minute tracks that had to be faded out because they would otherwise never have ended. It doesn't matter what you were thinking about when you started listening, because by the fourth or fifth minute, you're tapping your finger or making some other kind of body motion in time with the music. It's hard to say whether it's the players who settle into a groove by about the fourth minute, or the listener who's brain takes about that long to get a lock on it. In any case, you're very stupid if you don't get this CD.
Notable: Track 2 (Disc 1) (there are many others, just this one I can think of off the top of my head)
Cubanismo